Like a lot of you out there, I have about three or four different sizes of clothing in my closet. I am still trying to get back into my skinnier clothes that I wore before having my child (she is now two and a half)! These clothes were sitting on prime real estate in my closet, taking up room and mocking me every day from their lofty perch. So today, I decided to do something about it. I grabbed my handy-dandy box of Ziploc Big Bags
, the large size, and went to work.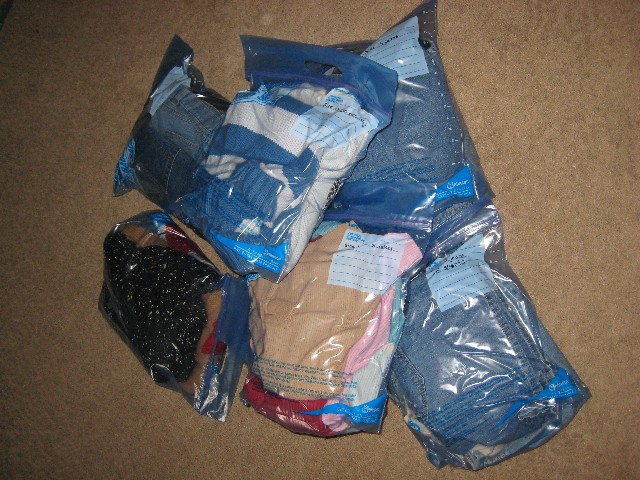 I took all of one size of jeans and put them into two bags and labeled them. I did the same with my sweaters and shorts that were too small, or in some cases, too big! I flopped down on top of each bag as I sealed them to get rid of all the air and I ended up with A LOT more room on my closet shelves and a neatly labeled pile of Ziploc bags. These bags will now go downstairs into storage with all of my maternity clothes. Now, I might be inspired to tackle my shoe collection next…
My obession with the Ziploc Big Bags does not end with closet organization. I have used them faithfully all over the house. Here's a few of my suggestions:
Toss all of your toiletries in the large size before putting them into your luggage. Oh, the clothes I have saved from not having my scented lotion squirt out all over my bag!
Beach accessories (floats, water wings, towels, toys, hats) fit nicely inside of the XXL size. We've used the same bag for two years to tote all of our beach things down to Sanibel with us. It's nice to contain most of the sand to one or two bags instead of all over everything in your car.
Camping gear. We rarely go camping, meaning we spend one night outdoors at Chica's land for 4th of July but when we do, I shove all of our pillows and blankets into the XXL bags to keep them clean until time to go to sleep.
Storing extra linens. I love having different sheet sets, quilts, blankets and duvets around to update my bedding as I get bored. I store all of the extras in separate bags to keep them together and organized in my closet. The XXL size works great for my king-sized down comforter at the end of winter.
Outdoor toys. When the season is over, I put all of the outdoor toys into bags and hang them high in the garage from hooks. If I didn't hate the ladder to the attic so much, I would toss them up there!
Christmas storage. As you get to know me, you will realize I have an obsession with all things Christmas. This obsession leads to massive storage needs. I use the bags for non-breakable items that easily squish. A special Christmas afghan, dish towels, place mats, table cloths, or my daughter's Christmas stuffed animals for example.
Kids clothes. If you aren't ready to pass them on, store them by size in these bags. When the next kid rolls around or you decide to give them away, it will be easy to sort the bags already labeled by size. I also like to label them with the season as well.
Extra travel bags. I place one of each of the Big Bag sizes in the bottom of my luggage before a trip. I have used them to carry home extra purchases or to contain dirty clothes. We even used one as our beach bag for an impromptu trip to the shore while in Italy. The handle loops nicely over the stroller handle to use at a zoo or in an amusement park.
Containing parts. For example, I bought a hand-held fancy cleaning gadget for my shower that came with all sorts of attachments and instructions and nothing to contain them. Now, this rarely used piece of cleaning machinery sits under the bathroom sink, ready to go at a moments notice. At least I have all the pieces together to sell it on eBay. Thank you, Ziploc bag!
The possibilities are endless with these things. If you have any cool ideas, please leave a comment to share them and help fuel my addiction!
If you liked this, check out these similar projects: