Make a football field rug
by: Chica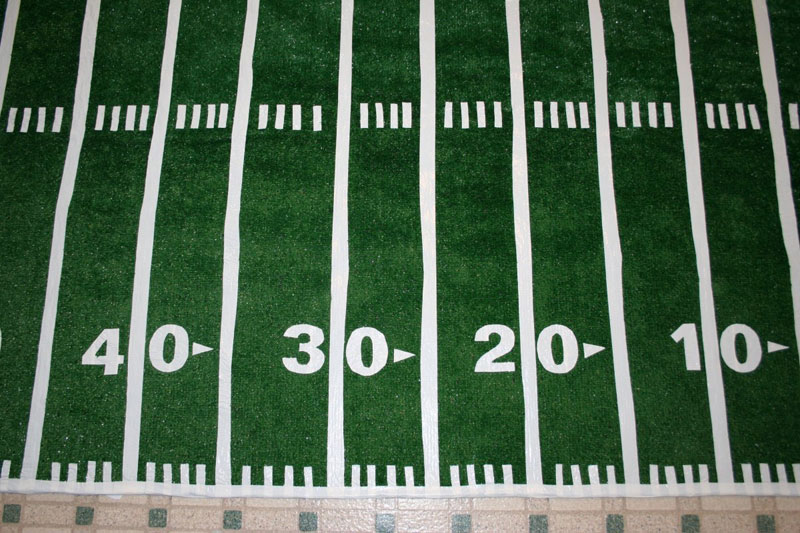 When my favorite NFL team (the Chicago Bears!) made it to the Super Bowl last year, I decided to host a party to celebrate the event. I had to do something special to decorate, and the idea I came up with was to make a large rug that looked like a football field.
I started with a giant piece of indoor/outdoor "fake grass" carpet, which I purchased it at the local home improvement store in the flooring section for about $20. They sell several kinds of carpet in giant rolls, and you can get them to cut off any length you want. The carpet I purchased came in a 12-foot-wide roll, so I got a 6-foot length of it, which was a good proportional size for a football field, and just right for my kitchen floor. (You can also find grass carpet online.) I also picked up a roll of white duct tape while I was at the store.
When I got home, I spent quite a bit of time calculating my measurements. I first laid the carpet out on the floor and trimmed it a bit to fit the room. Then I measured the length of the field and figured out how far apart my lines should be to allow for all of the field measurements as well as two endzones. I then cut the duct tape into 1″ wide strips and used them to mark a full line for every five yards on the field. I also added short strips of tape to mark the 1-yard hash marks that appear on each side of the field and then again a third of the way in from each side of the field.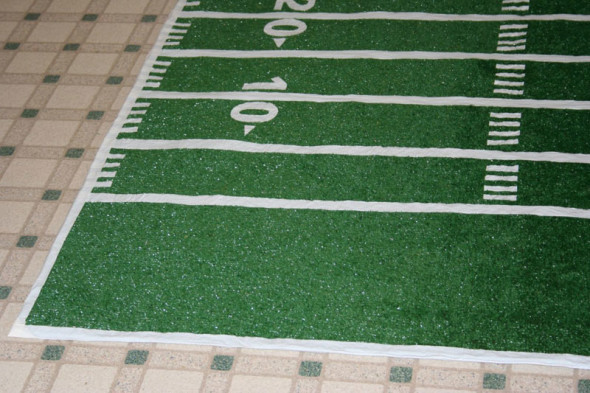 The next step was to make some numbers to mark every 10 yards. This was the trickiest part of the project for me. I began by printing out some giant numbers (about 3″ tall) on paper to serve as a pattern. I then laid three strips of duct tape across a self-healing cutting mat to make a "sheet" of tape. I placed the number pattern paper on top of the tape and then cut out the numbers with a craft knife, cutting through both the paper and the tape at once. When the cutting was done, I could then peel the numbers off the board and then apply them directly to the carpet. I also cut some little arrows for the 10, 20, 30, and 40 yard lines that pointed to the respective end zones.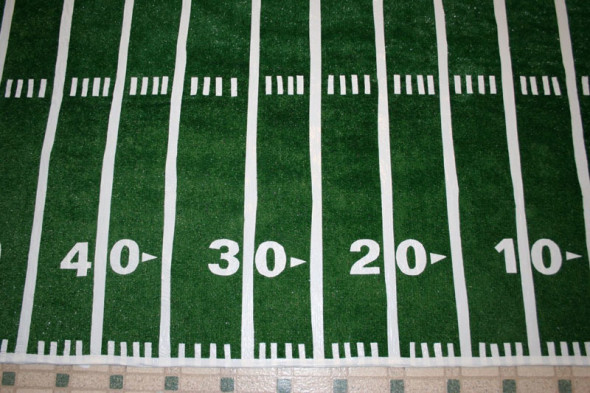 The final touch was to put duct tape around all four edges of the carpet, to seal it up so that it wouldn't fray over time. By doing the edges last, I was also able to cover up all of the ends of the tape from the yard marking lines, and it made a very nice finish. I pressed all the duct tape firmly in place and walked over it to make sure it had made full contact with the carpet, and it was definitely secure. I really loved the glossy look the white tape gave to the finished product, and I especially loved how well it held up — it didn't even budge after two days of foot traffic!
Everyone loved the rug during the party and it had a huge impact, especially considering it only cost about $25 in supplies! The best part is that I could roll it up after the party and store it to use again next year. If only my favorite team would make it to the championship again.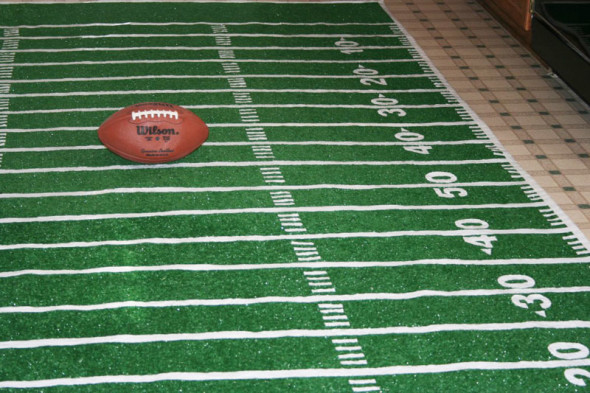 This would also be a great idea for tailgating at the stadium or as a decoration in any sports themed bedroom or birthday party. You could easily use the same basic ideas to make a soccer field or baseball diamond, too.
UPDATE:
I've since revisited this project, but in miniature. Using the same techniques described here, but simplified, I made a smaller version of this rug that's suitable for a table runner. It's a great way to decorate a table top for a party. If you don't have room for the big rug or want a simpler project , try making a football field table runner instead!
Planning a big party for Super Bowl XLVII and need more ideas? Bring it all together with a Super Bowl XLVII party pack, keep your drinks chilled in a 6′ inflatable goal post cooler, and let the armchair quarterbacks in your group have fun during the game with their own penalty flags!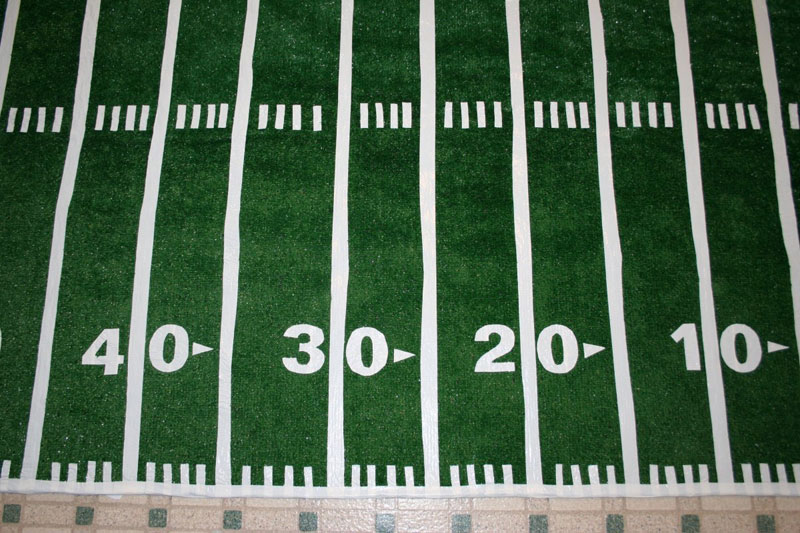 similar projects

leave a comment: